Chinese float liquid condom concept | The Register.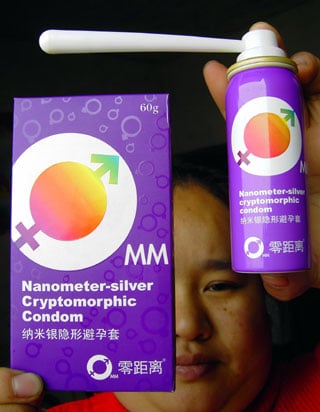 China's first liquid condom went on sale today after the country's health and drugs administration formally gave the hi-tech prophylactic the thumbs-up, the China Daily reports.

Dubbed the Nanometer-silver Cryptomorphic Condom (NCC), it's designed for female rather than male usage. The condom-in-a-can is essentially an antiseptic foam spray that the manufacturer claims forms a physical membrane inside the vagina, protecting it from infection, acting as a barrier to pregnancy and providing a lubricating effect.

It's not known who makes the NCC, but Beijing-based Chinese-Canadian condom maker Blue Cross Biomedical has been touting something along these lines for a while now. It maintains its spray-in condom "can effectively kill gynecological disease pathogens such as staphylococcus aureus, Candida, coliform bacillus, and can prevent sexually transmitted diseases.

"It can remain in the vagina for a long time without destroying the vagina's chemical balance," the company adds. "Daily use of this product can help maintain genital hygiene and prevent infection by pathogens".

Nanometer-silver Cryptomorphic Condom.

ok if i buy this and send it to anyone who's brave enough to try. i don't have a boyfriend so i can't be the ginnypig. i'd love to hear the feedback though of the logistics! getting it on is pretty logical..but how to get it out/off? how do you know you don't have a hole somewhere...?